At the end of the courtyard another set of doors opens into the massive main chamber the dome ceiling stretches one hundred forty feet overhead and features a brilliant mural of dwarves fighting giants in what looks like the Stonehammer Mountains. As they move further in to the left and right are staircases lead up to a balcony that overlooks the hall two orcs, in leather armor are pointing "bellybows
1
" straight at them.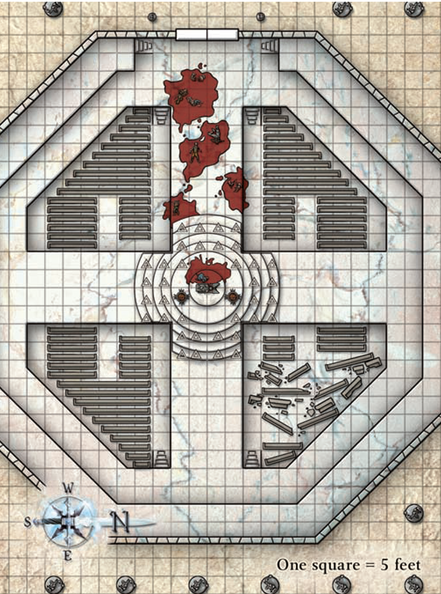 Twenty feet head of the group to the left and right stairs lead down to sunken seating areas filled with pews, at the center of the room is a dais ringed with blood-spattered steps; two braziers atop the dais fill the room with bright light. Atop it stands a cracked anvil, clearly an altar, but now desecrated by dripping gore and smears of filth.
The remains of dwarf priests and paladins litter the floor, their blood cooling on the stone floor. A hideous orc crone dressed in tattered rags begins screeching as she sees the group, hopping from one leg to the other in outrage.

Gor begins climbing the stairs to the left and Yuriel heads to the right, the archers begin shooting their arrows each hitting the target climbing up their stairs. Daeniroth runs forward and charges at the crone slashing easily through her tattered rags, Quevven moves forward to support him sending illusions of spectral assailants at her to keep her attention. Meanwhile Gor made it up the steps and hits the leather clad orc hard putting some deep cuts in it, Yuriel takes his by surprise by charging up the stairs then turning to liquid and maneuvers behind him. After returning to form he grapples and manages to shove the archer over the edge and down some of the stairs.
On the dais the anvil altar slides on its base and a group of four orcs appear with clubs raised overhead a burly looking orc in chainmail comes behind glaive in hand, tattered cloak hanging behind him. Quevven immediately sets the area alight with flames and the four burst into flames the commanding orc yells at the death of his comrades. Gor finishes off his foe and makes his way down the steps and over up the dais, Daeniroth slashes at the commander who recklessly charged ahead trying to get to Quevven, the crone sensing the tide turning, backs up towards the newly revealed stairs. Yuriel quickly finishes the fallen orc and makes his way down the stairs, Quevven begins moving back from the fray, Gor makes it up the dais and slashing furiously at the commander.
Daeniroth moves into flanking position and puts a well placed blow he leaves him exposed to an attack from Gor who unfortunately misses. Yuriel makes in to fray and they quickly overwhelm the commander and kill the crone was doing her best to support him. The altar base reveals a spiral staircase going down. The group can only spend a few moments looking at the slain dwarves before Gor swears revenge; they descend down the staircase as quietly as they can with eyes alert to danger.
---
1The ancestor of the catapult,the Gastrophetes or Belly Bow
It was laid out horizontal and braced up against the belly. This way the user could use both hands to draw back the string making it more powerful than the regular bow.