As the group catches their breath and Daeniroth recovers from his near death and in his heightened state is the only one to hear signs of an approaching figure. He looks towards the stairs and sees a figure moving down the second set of steps they had just traveled.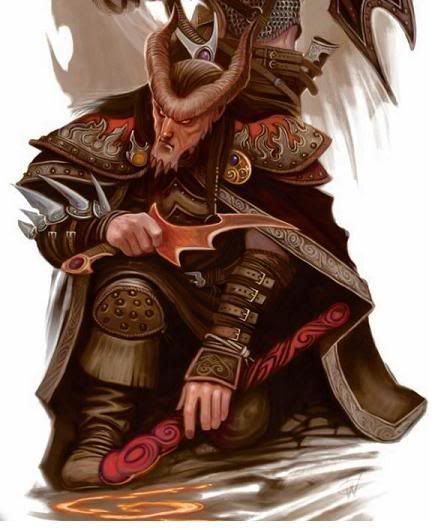 He warns the group each preparing for another fight, except Quevven who's once again pouring over his spellbook, the figure is wearing a long cloak and covers his face with the hood as he comes closer. Gor calls up to the figure as he reaches the fourth landing he carefully explains he means them no harm and his name is Sioc, he is then allowed to continue down to the cavern floor he pulls back his hood revealing two large horns on his head and the solid white eyes of a Tiefling.
Gor again asks his business in being here and he gives a brief explanation explaining he is looking for Kalad a dwarf to whom he owes a great debt. Gor presses for more details and Sioc quickly responds that he means the group no harm but is not required to give details of his personal business to anyone. Gor is a bit taken aback by this answer and the group decides with his tenacity proven Sioc, can be allowed to accompany the group and search for his missing debtor. The group continues on, down the corridor 60 feet and feel the temperature rising as they continue onward.