Quickly surrounded Gilgathorn attempted to attack with his longsword and after tossing his crossbow down, the group seizes the opportunity picking up and tossing it away. They then pulverize him to the point he is begging them to spare his life which they begrudgingly do.
Far'el is able to redirect the energies of the conduit as directed by Amyria who is restored to human form in a flash of blinding light. The process is not without its drawbacks Amyria's memory is very vague and can only recall that she has a purpose but doesn't know what it is. She does know that she must go to Overlook and ask the group to accompany her there, which they agree to.
They make their way back to Brindol and collect the 1000gp reward for the two captives who made it to the town of Red Rock.
They then travel to Talar a major outpost for the Elsir consortium to spend some of their new money. They rest the night in the Green Dragon before heading back on the Dawn Way. The journey back to Overlook is uneventful and as they get close they can see the city is in the middle of a fortification effort.
Upon reaching the gates they speak with Elster Strifeminer who has been promoted after cleaning up the dead bodies the group left behind. He explains that the Council of Elders thought it best to make sure Overlook is prepared in case of trouble.
Upon entering Overlook Amyria walks directly to the temple of Ioun in the Nine Bells district where she falls deep in prayer. After observing her for a bit Raylor makes sure to tithe in exchange for a promise from the priests to keep an eye on her.
The group then splits up to take care of their own personal business, Far'el and Phi go to raven queen temple in the Divine Knot to pray and notice that the matron Volorvyn was not quite herself and a bit distant. Therandil heads to a temple in Elftown to commune with nature he speaks with Aiden about Overlook's new attempt at preparedness.
Raylor attempted to find a place to use as a home base and after working his way through a few inns in bad shape found his way into the Mountain's Hearth. This was most fortuitous as the dwarven matron Reggen recognizes him and after explaining that the groups defeat of Szagyn, the Lost One's who had been badgering her for protection money haven't been seen by since. She charges them nothing for their rooms for as long as they care to stay and more importantly half price for drinks!
In the evening they all catch up with the each other and settle in for nice meal. Part way through the meal a serving girl tells them that a priestess named Lavinya had came in looking for them. She explains that Lavinya has been looking all over and would like to see them as soon as possible. She has been attending her temple in the Divine Knot in the morning and looking for them in the afternoon, the girl explains that she had been looking a bit frazzled and desperate.
They decide to see what she wants but think it better to wait until late morning before heading over to see her they don't want look too eager or desperate.
The next morning as they walk through the Divine Knot it is apparent that a lot of work is being done to rebuild the temple of Moradin.
After finding the dirty and dilapidated building they go in and find the half-elf hard at work fighting a losing battle to the dirt and grime that saturates the temple. After hearing Lavinya's story about her missing friend Haelyn they strike a deal to find out what has happened to her. She initially didn't want to see the man who is in charge now Grovald hurt, but she gives in and also agrees to a deal where the group takes partial ownership of the temple of Erathis in Tradetown.
Far'el & Raylor go to speak with Volorvyn who disappointingly has not done the mornings rituals. Far'el helps get things in proper order and hearing that the Volorvyn has been feeling less and less like following the Raven Queen; he attacks her in a fit of rage knocking her unconscious. The parishioners scramble out while Phi and Raylor drag her to the back, tie her up and wake her.
She refuses to answer their questions and her body falls flat as she appears to die in front of their faces. After making preparations to perform the speak with the dead ritual Far'el finds it won't work, the body has no recollection of events.
A group of guards burst in and demand to know what is going on but they successfully calm the guards (with the help of a bribe) and get them to leave without asking anymore questions.
Raylor and Therandil speak with Aiden again and he notes that Haelyn's disappearance has been a bit puzzling, although he doesn't speak much with other priests they do meet occasionally and from his brief experience she didn't seem like the type of person to disappear without giving proper notice.
They meet up again and head out at dusk to the Shrine of Erathis in Tradetown to speak with Grovald. They spend a few minutes observing a man who seems to be less than interested in performing his duties as a priest. The group quickly ushers the few people in the tent out after Raylor's declaration that the temple is closed for the evening.
Grovald takes offense to this intrusion and after giving answers the group doesn't believe he tries to escape by cutting a hole out of the tent. His attempt was made difficult but the quick weapon work of Phi and Raylor who both get in a swing of their weapons before he could escape.
He manages to get outside and signal for help but his escape cut off by a Far'el's conjured blade barrier. Three human thugs appear from the north cottage, three from the second cottage to the east. Therandil makes quick work of the three from the north with a well placed shot. The other thugs realizing that that they are overmatched manage to escape while the group kills Grovald.
Far'el again prepares the speak with dead ritual and even though Raylor and Phi's attempt to help backfire causing more trouble. They still are able to learn from Grovald's body that he was hired by a General Zithiruun, and was ordered to kill Haelyn because of her nosiness into his interests.
They try the ritual again to hopefully lean a bit more information and again Raylor and Phi's attempts to help with the preparation do more harm than good but Therandil is able to correct their mistakes before the ritual is cast. They asked if Grovald ever worshipped a deity and the body responded that he never had.
Their search begins with both of the cottages on the property and it turns up a small gold-framed portrait of an old priest (worth 400 gp), two potions of healing, and a kit with many mundane ways to disguise one's self (cosmetics, prosthetics) they find no information about where Grovald is from or anything pertaining to his benefactor.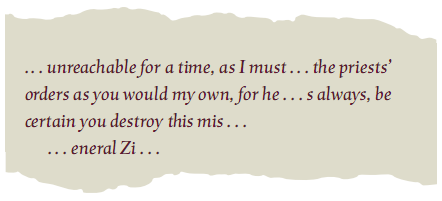 Their search then extends to the temple grounds and they find some recently disturbed ground by the fountain, there they find the rotting corpse of Haelyn. Far'el prepares the ritual again and Haelyn eagerly tells them that after noticing some other prominent priests were acting strangely she began investigating. Shortly after her attempts at confrontation with a few of them Grovald came to the temple and slew her with his magic.
The sun having long set during their time at the temple they go back to the Mountain's Hearth to rest and decide the next action should be to speak with Elster and see if the town has any knowledge of General Zithiruun.
The next morning after a hearty breakfast and hearing the local gossip about the murder in the Raven Queen's temple, they head to the Ministry of War in the High Hall district and are allowed into the building to see Strifeminer.
They explain all they have discovered to him and as they do they notice that his demeanor is more subdue when responding to their story. He says he has never heard of a General Zithiruun and after some prompting from the group sends a guard to check with the other captains that may still be in the building. He explains that along with the work outside Overlook much work is going on inside specifically Ancestor Durkik's decision to use a majority of the priests in the restoration of the Temple of Moradin has been causing problems as they require a good amount of guard presence to ensure there is not trouble. The guard returns and speaks with Elster quietly and he then explains that no one here has heard of this supposed General. He then quickly thanks the group and promises to investigate this matter further. The group tries to explain that they would like to continue as a service to Overlook since the guards have so much on their plate already but he aggressively tells them that this matter is now official business and that they should stay out of it or face the consequences.
As they leave Far'el and Phi tell the others that he was showing the same kind of distant look that Volorvyn had. They then speak with the guard who was waiting to show them out about how Strifeminer seems different than the last time they spoke with him. The guard reluctantly tells them that Captain Strifeminer has been acting strangely and quietly explains that he's only telling them because of their great deeds in service of Overlook. He goes on to say that shortly after his promotion he began acting quite odd, he has been less adamant in his job and hasn't been hanging out with his men after work. His mentality has been a do his day's work and then to go off to do whatever he is doing after work.
Some of the other guards entertained the idea of following him once to see where he has been going at night but they were too afraid of the consequences.
---
Gold-framed portrait (worth 400 gp), Two potions of healing, and a Disguise Kit.